projects:r8c:r8c_forth_en
Inhaltsverzeichnis
R8C Forth
Deutsche Version dieses Textes
The German electronics Magazin Elektor distributed in its December 2005 issue a Renesas-R8C-Board produced by Glyn. The Software by Glyn distributed in the Magazin contained a C-Cross-Compiler for Windows. But it is more interesting to have a Forth System on this CPU.
division of functions
State 27mai2006
The System is now production quality.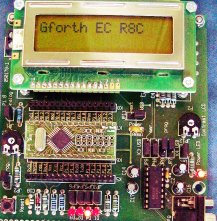 :noname bgtask @ 0= ?EXIT
  rp@ bgtask @ sp@ cell+ bgtask ! sp! rp! ;
IS pause : task r> bgtask

20 cells + bgtask

10 cells + bgtask ! ; :noname echo @ IF
   BEGIN pause key? UNTIL THEN (key) ;
is key
ram</code>
An adapted version of the Blinkenlights Demo above:
rom
: light!  led!  &100 ms ;
: run  1 light! 2 light! 4 light! 8 light!
  4 light! 2 light! ;
: blinkenlights
  task  BEGIN  run  AGAIN ;
ram
Text Scroller
Similar to the Blinkenlights we can create a Text Scroller. The scroll speed is controlled with the potentiometer on ADC channel 6.
rom
 
Create text
," GNU Forth EC R8C -- Microprozessor -- "
Create ledtable 1 c, 2 c, 4 c, 8 c, 4 c, 2 c,
Variable /text
 
: scroller  task
  BEGIN  text count /text @ over mod /string
         16 min dup >r lcdpage lcdtype
         r@ 16 < IF  text 1+ 16 r@ - lcdtype  THEN
         rdrop 1 /text +!
         /text @ 6 mod ledtable + c@ led!
         6 adc@ 2/ ms
  AGAIN ;
 
ram
Links