Table of Contents

e4thcom - A Terminal for Embedded Forth Systems
Copyright (C) 2013-2017 Manfred Mahlow
Abstract
e4thcom for Linux (32 Bit executables for X86 and Raspberry/Raspbian) is a terminal program for embedded Forth Systems that supports conditional and unconditional uploading of source code.
The latest public release is e4thcom-0.6.1. The previous one was e4thcom-0.5.3.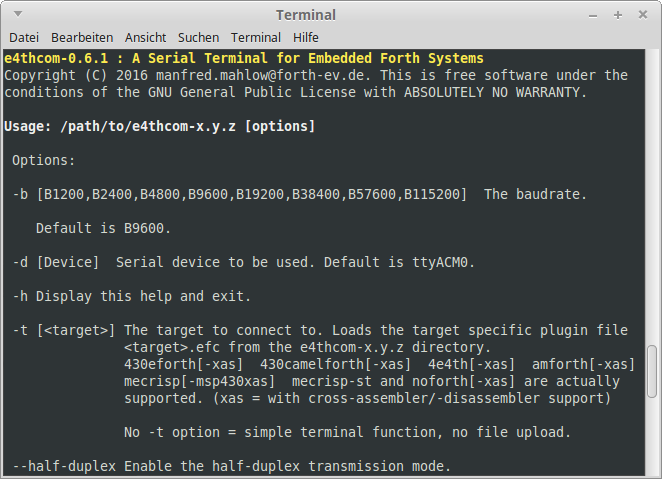 Added features:
Editable Command Line with History and TAB-Selection

Editor Interface for Code Debugging

Code Uploading in Half- and Full-Duplex

Plug-Ins for 430CamelForth, 430eForth, 4e4th, AmForth, anyForth, Mecrisp, Mecrisp-Stellaris, noForth
Removed features:
Data Transmission via UDP (please use e4thcom-0.5.3)

ForthBox no longer included
For further information please read the file /doc/e4thcom.pdf in the e4thcom-0.6.1.tar.gz archive.
md5sum: 11c5cb8ce917e331da060fcccfeca9f0 e4thcom-0.6.1.tar.gz
More Plug-Ins:
e4thcom-0-6-1-stm8ef-plug-in.tar.gz
md5sum: 65e298a01a96d6f25c8fcf8f5f72e2fb e4thcom-0-6-1-stm8ef-plug-in.tar.gz
Data transmission via serial line or UDP

Bidirectional Cross Assembler Interface (allows access to target ressources)

Cross Disassembler Interface

MSP430 Cross Assembler for noForth und 4e4th

MSP430 Cross Disassembler for noForth

ATmega Cross Assembler for AmForth

Plug-Ins for 4e4th, AmForth, Mecrisp, Mecrisp-Stellaris and noForth

ForthBox with improved keyboard interface
md5sum: 559cc0a5112eee79c3b83bafa0388f7b e4thcom-0.5.3.tar.gz